16/09/2019. Have you noticed, in recent years, the number of Tananarivians with their lunch baskets running after the buses every morning, the mpanao kibo an-tsena (those who eat quickly in the markets) gathered around the gargotes and street markets around midday or even these makeshift stalls, set up from 5pm onwards, with shouting vendors and shop windows with very often the same food in them? Soup, vary sy laoka, mixed salad and mine-sao, a real "leitmotiv" for the gargotes that now crowd every street corner. But what do Malagasy people really eat? How many times a day? Where? What do they drink? This survey carried out by the Stileex Post among 1085 Tananarivians answers questions about eating habits in Madagascar.
9 out of 10 Malagasy eat 3 times a day
Our first question about eating habits in Madagascar was how many times a day a Malagasy person ate. Not surprisingly, just over 9 out of 10 Malagasy people eat 3 times a day. The other 8% told us that they eat 2 meals a day, while 1% would eat 4 times a day. None of our respondents claimed to eat once a day.
Moreover, we wanted to know which meals the Tananarivians would not miss under any circumstances. The answer is unequivocal, lunch (81%) and dinner (49%) are unequivocally the meals that the Tananarivians would never allow themselves to skip, if breakfast, 9 points behind (40%) comes in third place. Only 1% of our respondents would not want to miss a snack.
As a corollary to this question, Tananarivians are probably not ready to skip lunch as the majority (64%) consider it to be the main meal of the day, followed far behind by dinner (21%) and finally breakfast (15%).
Are the Tananarivians having breakfast?
Tananarivians are rare to miss the first meal of the day, as more than 3 out of 5 Tananarivians tell us they never skip breakfast. Those who take it often follow with 57 points less, or 12%, while the Tananarivians who only take it sometimes are at 9%. For 8% of our panel, it is rare to eat breakfast, while 2% simply admit never having it.
So vary sosoa sy kitoza or café sy mofo gasy? For those who have breakfast, the balance is leaning towards vary sosoa (another way of cooking rice in Madagascar, which consists in putting a lot of water so that the mixture gives more or less a soup). Foreigners tend to compare it to risotto or call it rice porridge. If you are in the northern region of Madagascar, vary sosoa can be called sabeda, where it is eaten with meat skewers. In the highlands, this breakfast can be enjoyed with kitoza (dried beef), a piece of sausage or even, depending on the season, chilli pepper sautéed with tomatoes and onions. It is the breakfast par excellence in Antananarivo and according to our figures, it is far from being a has-been: more than half of the Tananarivians, 52% take vary sosoa for breakfast.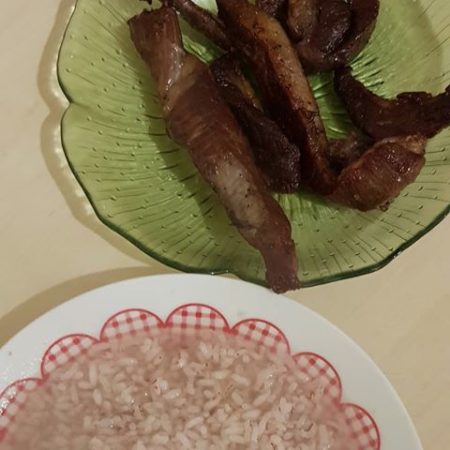 Coffee then follows by 15 points less (37%), with tea trailing at 33%. For 31% of our respondents, nothing beats a good bread at breakfast, while 24% prefer traditional Malagasy bread. By this we mean mofo gasy, menakely and other makasaoka. Indeed, among these doughnuts with often unusual names, the mofo gasy is the most eaten for breakfast: it is a mixture of rice flour and sugar that is fried in a special mould, 55% of Tananarivians are fond of it at this time of the day. It is followed by the menakely (translate little red) which is a kind of Malagasy donut, appreciated by 18% of our panel and which gains 4 points more than the mofo baolina. The ramanonaka (a salty variant of the mofo gasy) and the mokary, another kind of mofo gasy that can be mixed with coconut, chocolate or even cheese, finish with 9% and 4% respectively. These doughnuts cost between 100 and 500 Ar in the capital.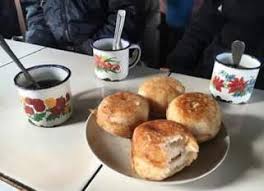 The vary amin'anana (19%), milk (12%), vary maina (5%) and pastries (4%) also know the tables of Malagasy households for breakfast. Tubers and cereals end up in a tie with 1% each.
As far as the place is concerned, 76% of Tananarivians are mostly used to having breakfast at home, while 6%, constrained by the rhythm of life in Madagascar, have to eat it in haste either at the market or in the gargotes. 2% of our respondents answered to take their morning meal at work, none of them in the hot spots of the gas stations, or in the tea rooms.
Eating habits in Madagascar: Tananarivians appreciate coffee more than tea
This conclusion came to us when, during this survey on eating habits in Madagascar, we asked the Tananarivians whether they drank tea, coffee or not. The unconditional tea drinkers represent 18% of our sample, while 21% are kaoatry drinkers (a colloquial term for coffee in Madagascar). Often, 28% of Tananarivians drink tea, if 18% do the same for coffee. Those who rarely drink tea represent 49% of our respondents, 44% in the case of coffee. The Tananarivians who never drink tea are 5%, against 17% for coffee.
If our friends the English drink their tea all day long and have made it a real ritual, in Madagascar, here are the most appreciated hours to sip a good cup of tea (or coffee). The question has been proposed with multiple choices.
| | Tea | Coffee |
| --- | --- | --- |
| Morning | 73% | 90% |
| Noon | 17% | 28% |
| Evening | 10% | 5% |
For tea lovers, lemongrass tea is the most appreciated, as confirmed by 72% of Tananarivians. In second place is olive tea, which follows far behind with 11%. 9% of those questioned prefer to keep it simple and only drink boiled water to which a few spoonfuls of sugar can be added. 4% of the population prefer lemon tea if 2% spontaneously answered "Sahambavy", which is the name of the only tea plant in Madagascar, located in the Haute-Matsiatra region and which will then designate the brand of green and black tea produced there. Red fruit infusions and ginger tea are appreciated by 1% of the panel.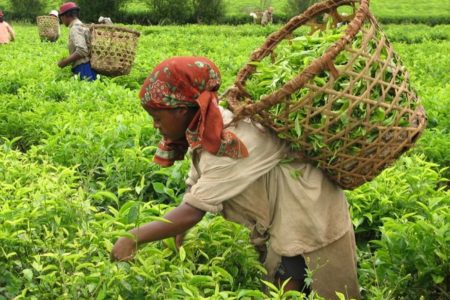 For coffee, 49% of Tananarivians prefer it to milk if for 44% of the sugar is sufficient. The remaining 7% drink it black.
Eating habits in Madagascar: the vary maina sy laoka is a must at lunchtime
Without too much surprise, the vary sy laoka reigns supreme in Madagascar's eating habits at lunchtime, at 96%. The remaining 4% is divided between soup, pasta of all kinds, mixed salad (2%), vary sosoa sy laoka (1%) and sandwiches and hamburgers (1%).
This meal is mostly taken at home, according to more than 1 Tananarivian out of 2 (54%) and at work for 34% of respondents. 10% of respondents eat lunch in the gargotes. Restaurants and fast-food chains finish in a tie with 1%.
While nutritionists strongly advise against drinking during meals, 61% of Tananarivians deviate from the rule. Ranon'ampango or rano vola, which is a broth made from the bottom of a rice pot (57%), still water (31%) and fruit juices (10%) are drunk most at lunch. Soft drinks and sparkling water are each appreciated by 1%.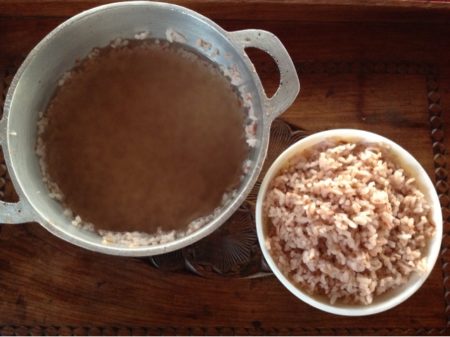 On the other hand, the Tananarivians drink less at dinner
At dinner, nearly 3 out of 5 Malagasy households take vary maina sy laoka (58%), while for 26%, it is preferable to opt for a lighter meal and therefore vary sosoa sy laoka. 15% of the Malagasy people we interviewed have vary amin'anana at dinner, the last percent eat soup during this meal.
Indeed, Tananarivians drink less than at lunchtime at dinner, because if they were 61% at noon, we recorded 29 points less in the evening, or 32%. Ranon'ampango/rano vola could not be distinguished this time from still water, with 47% each. 6% of Tananarivians drink fruit juice at dinner.
How long does it take the Tananarivians to eat?
To eat, Tananarivians take on average between 21 and 30 minutes (53%), if 21% do it faster (between 11 and 20 minutes). For 18%, the meal lasts a little longer: between 31 and 40 minutes. For 4% of our panel, it will take a little longer: between 41 and 50 minutes to eat, and between 51 minutes and 1 hour for 2%; those who eat less than 10 minutes or those who need more than 1 hour to eat each make up 1% of our respondents.
Do Tananarivians ever skip a meal during the day?
No, rarely. This is the answer given to us by 69% of the Tananarivians who participated in this survey. 17% often skip one or more meals during the day if it rarely happens to the 12% of our panel. 2% told us that they always skip one or more meals. Why did they do it? Because of lack of time (50%) or envy (30%), because of an oversight (10%), a diet (5%) or simply because they do not see the point of eating 3 times a day (5%), many were the answers given by the Tananarivians to this question.
As for the bad habit of snacking between meals, 8% of our panel can't get rid of it, compared to 36% who do it often. 34% say it only happens to them a few times, followed by 18% who snack only rarely. 4% of Tananarivians still take into consideration the advice of nutritionists who forbid snacking between meals.
As far as taste is concerned, salty taste is the most popular, it received more than 58% of the ways, followed by sweetness: 16%. The "sweet" taste is appreciated by 14% of Tananarivians, while the spicy taste received 10%. 1% like the bitter taste, the same for the sour taste.
Finally, only 1/4 of the respondents avoid eating certain foods for health reasons.
What about this survey on eating habits in Madagascar?
Despite all that can be said, rice still retains its place as a staple of the Malagasy diet. Whether it is sosoa or maina, this cereal is omnipresent in every meal that an inhabitant of the big island takes. Incidentally, the country requires more than 2,600,000 tonnes of rice per year, but production is not yet sufficient to cover needs, forcing it to import around 400,000 tonnes each year. To make up for this lack, attempts have been made to adapt the Malagasy palate to other foods and flavours, particularly pasta, without much success. If normally the consumption of rice should be limited to 50 grams per day, the Malagasy consumption of rice per individual can go up to 400g per meal! A kilo of rice costs about 1500 Ar at present.
Generally speaking, the Malagasy population is within the norms: the day should mainly consist of 3 essential meals for a balanced diet. Breakfast is certainly not the most important meal of the day, however it allows to accumulate the necessary energy intake for the day, so you might as well not miss it! Our interviewees are right, lunch is the most important meal of the day. However, paradoxically, skipping it could lead to significant weight gain. If you don't have time for lunch, take a protein drink with a piece of fruit, it will be more beneficial than a meal taken in haste. If you want to lose weight, don't skip that meal: opt instead for a salad or a raw vegetable dish. In the evening, you can afford to eat less to avoid overworking your stomach, opt for a light dinner without depriving yourself and to allow you to last until the next meal.