To facilitate their business management and to give a more modern image to their brand, companies often use management software. This is where the EBP group, a French software company, comes in. Let's discover this software.
Presentation of the EBP Group
For more than 30 years, the EBP group has been supporting companies in all sectors in the performance of their professional activities. Since 1984, more precisely, this group led by René Sentis has been providing companies with various software products to make their daily tasks easier. Among the offers offered by EBP, you have the software for quotation, invoicing and management, a software that will help simplify business processes.
The services offered by EBP are aimed at all types of companies, especially SMEs.
EBP functionality quotation and invoicing
The EBP quotation and invoicing software has been specially designed to make sales procedures faster and easier. Let me explain : if without software, you have to spend no less than ten minutes and go through several tedious steps before you can issue a delivery note, invoice or payment receipt, with invoicing software such as EBP quote and invoicing software, these steps are done in a few clicks and a few minutes only.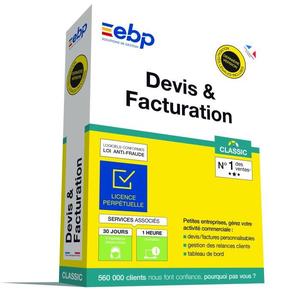 The secret ? A one-time entry. With EBP, the steps of the business processes are done at the same time. The creation of a new order, for example, automatically results in the creation of an invoice and an increase in the balance of the customer concerned.
This software also facilitates the monitoring of the status of your stocks, the management of your stock will be ensured. When you enter an order, it will automatically reduce your stocks, allowing you to have a real-time status. It will also allow you to anticipate your replenishments and get an idea of which items are working and which ones are to be promoted.
EBP quotes and invoicing will also help you in the follow-up of your customers and their payments and thus, have a control on your cash flow. The issue of customer payment is a very important issue for commercial companies. Also, monitoring customer payments closely should not be done lightly to avoid potential financial difficulties.
Here again, EBP comes into play so that you always have a knowledge of your clients' situations in relation to their due. And since it is possible to set a due date for each payment, the software will notify you when the due date approaches via a reminder alert. You even have the right to a sales history per customer to export if necessary.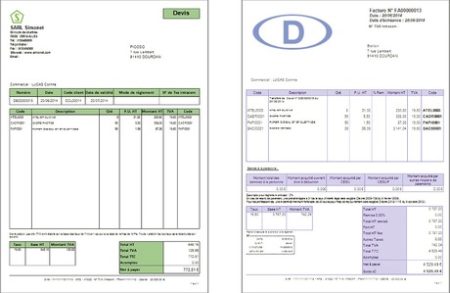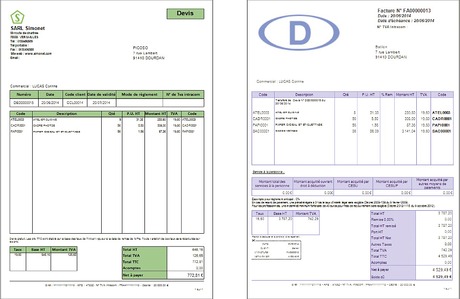 Calculating your salespeople's commissions will no longer be a headache for you once you have installed this management software. Based on the rates and types of commissions you have previously defined, EBP will automatically calculate each salesperson's commission when they record a sale.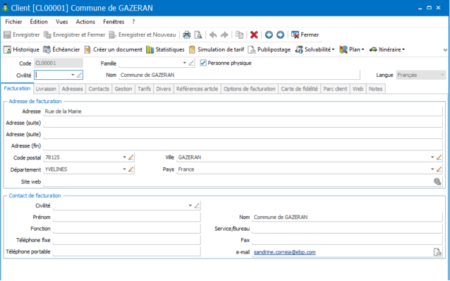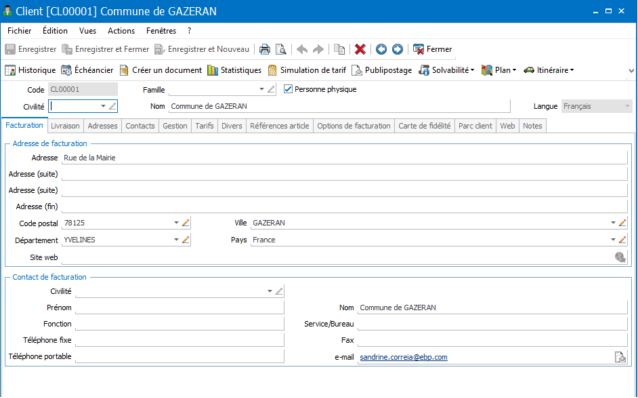 From your dashboard, EBP allows you to monitor your activities in depth. You can, for example, know the status of your turnover, which items are selling best and which ones to promote. You can also situate yourself financially in real time thanks to the highlighting of your annual achievements as well as the comparison of your figures from the previous year made by EBP.
EBP Horizon In a few words
As mentioned above, EBP is also available online so you can access it anywhere and anytime. All you will need to access your account is an internet connection (preferably very high speed).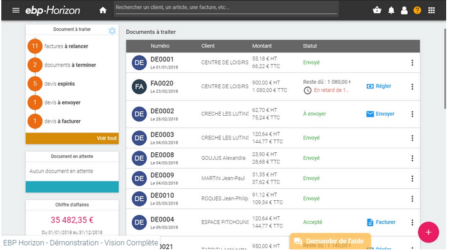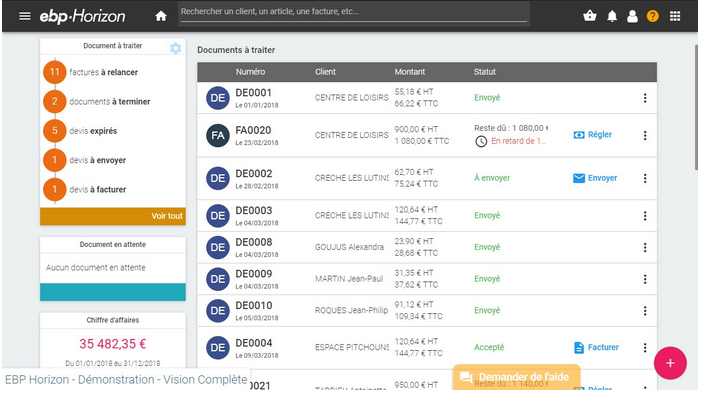 Creation of a sales document (quotation and invoice)
As I mentioned earlier, EBP allows you to create sales documents in minutes. But be careful not to make false manipulations, which could lead to a software failure.
Creating a sales quotation
A few steps are enough to create a quote :
go to « Browser »
click on « Sale ».
select « Quote ».
go to the toolbar at the top of your screen and click on « Add », a list will appear on your screen, click on « Quote » again.
Once this last step is completed, a window will appear on your screen, you will be able to fill in the information related to your new estimate.
Creating a sales invoice on EBP
Here again, a few clicks are enough. If you want to edit an invoice from a quote, here is the path to follow :
click on « Sale ».
click on « Quote », this action displays the list of your sales quotes
place your cursor on the estimate to be invoiced and right-click
once the dialog box appears, select « Transfer ».
another dialog box will appear on the screen allowing you to choose the document you want to generate. You then have the choice between « view the generated document » or « no ».
Once this is done, press the « Launch » button.
For the creation of a new sales invoice, the procedure is quite different :
go to « Sale ».
once in the sales document, choose « Invoice ».
go to the toolbar at the top of the screen and click on « Add » then « Invoice »
You can then issue your sales invoice by completing the window that will open on your screen.
The advantages of using EBP quotation and invoicing
Limitation of errors due to repetitive entries :
have an up-to-date theoretical stock
knowledge of customer status in a few clicks
periodic invoicing
Note that EBP quotation and invoicing can be installed peer-to-peer or in full web mode.
Thirty-five years after its creation, EBP is still a reference in management software. Designed by an SME for SMEs, this software is a real plus for companies, especially those in the field of sales. It should be noted that the field, dashboard and options of your software can be customized according to the needs of your company and the needs of each user. And if you want to benefit from all the features of EBP you have the choice between a peer-to-peer installation or the full web version : EBP Horizon.