We remain in the world of SMEs, VSEs and small businesses with the review of this new Saas invoicing software: Flexina. It is a Business Management and Invoicing software in Cloud. Its goal is to help freelancers and other small organizations to digitalize their management at a fair cost. That's it. Now, if the promise is kept or not, we need to be attentive. Here is my review of Flexina software…
Discover our guide to the best invoicing software: Top 18 Free and Paid Invoicing Software
The main features of Flexina, an invoicing software
Like Openflex, Flexina is a Cloud-based invoicing software. Yes, it is a Saas software (Software As A Service) that does not require any local installation. It is accessible from your computer, tablet, iPhone, iPad or simple smartphone, as long as the device is connected to the Internet.
To keep you from messing up, Flexina comes with strong options that have nothing to envy to competitors:
management of customers, prospects and suppliers
management of quotes, invoices and credit
management of unpaid bills and reminder letters
catalog of articles
document template editor
import and export of customer data and articles in Excel
statistics of sales, customers, articles, and turnover analysis
export of customizable sales journals
simultaneous multi-user access (note that you need a license for the multi-user mode)
invoicing in Cloud
Flexina is a paid software, but at a fair price. Especially when you think about all the functions it offers with the monthly subscription, namely:
accommodation
support by e-mail and telephone
data backups
secure access by HTTPS (Hyper Text Transfer Protocol Secure)
Regular updates based on user feedbacks to improve the software
Start-up assistance: software configuration, import of customer data and articles, layout of quotes and invoices
export business documents in PDF
constant backups on Dropbox
Finally, several (but optional) add-ons are available, if you need them. Again, the cost is very affordable, even for a very small company. Here are the available modules:
orders and delivery
supplier orders
purchase invoices
multi-user module
Flexina's Homepage
It is important to give you an overview of Flexina's Homepage, since it is from here that all the operations will take place.


This Homepage shows you all options for managing third parties, articles, history, software tuning settings, support, and payments.
In Flexina invoicing software, "Third Party management" simply allows you to manage customers, prospects and suppliers.
You just fill in the information about them (name, surname, VAT number, addresses, etc.) and then you have very well executed cards.
As for the "Articles" menu, it allows you to record and manage your purchases and sales. You can therefore concretely separate the purchase and the resale.
Flexina shows you the prices – both inclusive and exclusive of VAT – for the sales and purchases of all your items.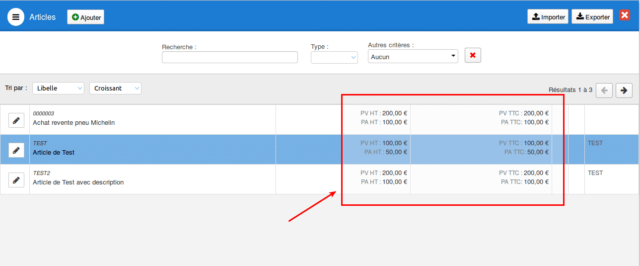 History
Flexina invoicing software offers you the possibility to follow your actions in time. This history adds the date of creation of quotes, invoices, customers, prospects and suppliers. Each document can even be opened and modified from this page.
Payments
Payments are listed by date and mode:
Bank card
Check
Species
Transfer
PayPal
or Credit note
Exceeded deadlines will be automatically notified by Flexina. However, the reminder letters will have to be sent manually, because it won't be done by the software.
Customer Documents
The "Customer Documents" heading is found in the center of the Homepage. This is where you access the different options for quotes, bills, assets and exporting Accounting transactions.
How to create a quote or an invoice?
Creating a quote or an invoice on Flexina is very simple. From the Homepage, go to "Quote" or "Invoice". Then click on "Add" at the top left of the page.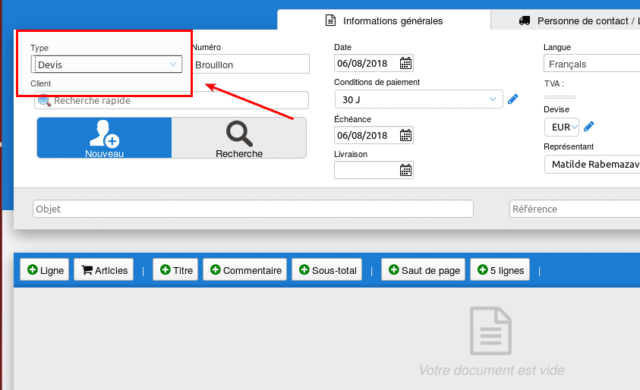 From this new page, you can change at any time the type of document you are working on by notifying the selector at the top left of the page (see the previous image).
Before creating an invoice or quote, you still need to look for a customer in your database. If you do not have one, you need to create a new one. To do this, simply click on the "New" button at the top left of the screen and then fill in the different fields that will appear (customer reference, company number if it is one, professional or private, phone, etc.). Then click on "OK" at the bottom right of the page to finalize the creation of this new customer.
To search for an existing customer, this time click on the button just on the right of the "New" button.
Once the customer is entered in the quote or invoice, you just have to click on "Line" in the bottom left of the screen, then fill in the information fields and you are done.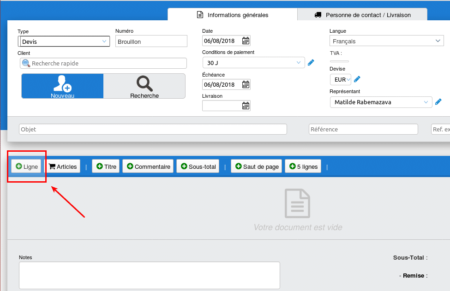 Small tip: before saving a quote or an invoice, you can have a preview of the document. Simply go to the "Preview" button at the bottom right of the page. The "Save" and "Cancel" buttons are also on the same line.
By saving the document, you will have to choose between saving as a draft or validating the document as the final version. A draft will be kept for future modification and can only be sent when validated. On the other hand, a validated document will be ready to be sent directly by e-mail. But it can always be modified in due time (when you are on the page of the document ready to be sent, just click on the "+" big green button at the bottom right of the page).
Any documents you send from Flexina will be sent as an attachment, in PDF format. Flexina also allows you to duplicate or print your quotes and invoices. You will also be able to export in Excel format documents, lines of documents, articles of documents, listing of customers with VAT number and listing of all customers without exception.
Finally, this Saas software also authorize you to directly save your files in Dropbox.
Invoice and Credit Note
In Accounting, it is impossible to delete an invoice. Actually, this is why invoices are numbered. Anyway, to err is human. However, under Flexina, it is possible to create "credit note" by the software.
This is particularly useful when you suddenly realize that the amount of a bill was exorbitant.
Exporting your Accounting transactions
In case you entrust your Account Management to an accountant, this option will allow you to summarize all your transactions and send them to him. You will be able to export your sales journal as well as your customer identification information.
By default, Flexina offers exports in .xls and .zip formats. If you are not satisfied or you don't know how to reconfigure them so as to be taken into account by an Accounting software, Flexina's services can do it for you. You will therefore need to contact them by indicating the specific file format to your Accounting software and they can make a customised export of the aforementioned documents.
Flexina's Settings
Flexina can be configured to give you a personalized identity and it is possible to modify several elements and features of the software. We can thus modify:
data relating to documents, articles, regulations and customers
the theme of the interface
the logo and the header of the documents sent
the presentation of quotes and invoices
document numbering
the signature of e-mails, their models as well as their mode of sending, but also the type of server while sending them.
It's also possible to configure your Flexina account to be linked to your Dropbox account, which is done in a few clicks.
The Flexina invoicing software Dashboard
Each one lay out a dashboard according to his viewpoints and the information that he thinks is relevant. This is the case for Flexina invoicing software too.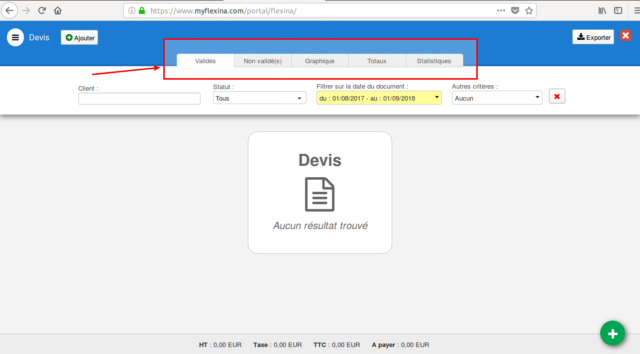 The dashboard makes it possible to control quotes, invoices or validated and not validated credits. It also presents a flow chart showing the evolution of turnover for the current year or a previous year.
An option called "Totals" also allows you to have the quantified representation of the production results. Finally, another option called "Statistics" allows you to track the total number of customers, the number of customers acquired per month and quarter, the number and groups of items sold, as well as various other statistics almost useful for you to steer your business.
In the end, the Flexina's dashboard is wide and provides relevant information for making daily decisions. The only thing missing is the ability to set its own indicators.
Flexina: my opinion on this invoicing software
Far be it from me to offense the team that has put a lot of love in this software (and we can feel it), but Flexina is not yet, at least for me, the dreamed invoicing software.
The strong points
multi-user option
software in Cloud
easy to use
existing service for more than 10 years
Available in 3 different languages: French, English, Dutch
change quotes and invoices at any time
clear distinction between prospects and customers
reasonable basic subscription price
free 15 days trial to start
The weak points
Flexina uses technical terms. It is therefore necessary to have a minimum of knowledge in Economy and Management.
The pages are not that well organized with needless buttons here and there.
The option for the credit note exists, but not for the debit memo (so it's good for downgraded bills, but not for upward ones).
In summary, Flexina, the invoicing software, has very well armed itself to offer quality services, proof is the long list of benefits it has. It's also true that by mastering its features, we can do a better job on this software than using another more expensive software.
Flexina may have been well designed, but there are still two annoying things. For example, on the Homepage, I think that it is not necessary to have a special button for quotes and another for invoices. Why? Because (i) both documents will be processed from the same page and (ii) especially as we can even switch from one type of document to another without hassle. A single button called "Quotes and Invoices" would have been much more convenient!
Okay, I am quibbling! Because after all Flexina is truly easy to use. Of course, you need to have a minimum basic in Management, but I recommend it just for the countless benefits it offers to its users. I also recommend it to all those who don't want to invest a big budget in a software.
Of course, Flexina is not free, but compared to other services, we can say that a Flexina subscription is given on silver platter.
See also: Our comparison of the best POS software
See also: Our ultimate guide to the best Warehouse Management software