With the digitisation of work methods, the majority of companies are now equipped with Management software. In doing so, they have gradually become essential work tools for the good management of the business, except that their multiplication complicates things for companies. That's where Hiboutik comes in a 3-in-1 POS software that also does CRM and Stock Management. I have tested it and here's my honest review.
Presentation of the Hiboutik software
Hiboutik was created by Swiss and French developers. Its first version was released in the 2000s. Back then, the software was already managing online sales, as well as those in stores.
For more, visit their website.
In 2012, Zagareli SA was created in Lausanne (Switzerland) to distribute Hiboutik. The goal was to develop a generic solution suitable for as many sectors as possible. As a result, Hiboutik is now present in almost all European countries and is also used on the American continent, not to mention a few countries in Africa.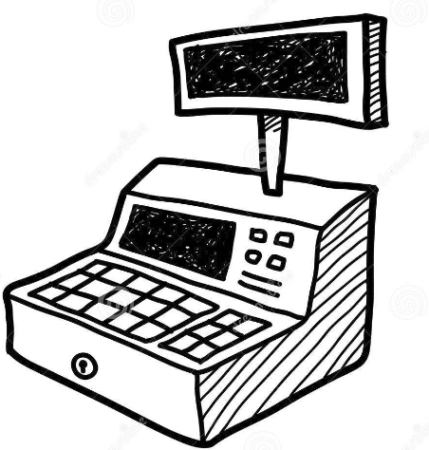 Basically, Hiboutik was a "simple" POS software, but has expanded over time with the functionalities of a CRM (Customer Relationship Management) and a Warehouse Management software.
Hiboutik and its features
Hiboutik is available in two versions: free and premium.
It already offers full features in its free version, but it is still possible to strengthen your work tools with a paid version – offering even more Management options.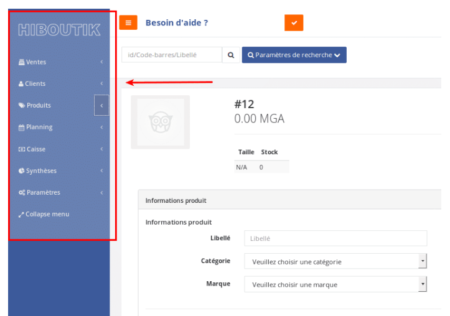 The free offer
The free Hiboutik package offers you options related to orders / sales, customers, checkout, stock, suppliers and access to various statistics
Orders / Sales
ticket printing (kitchen and cash register)
the management of the sales procedure
sending and printing invoices
the management of late payments
automatic search and barcode system
discount management
the management of the tickets picked up and expected
the multi payments
sale price management
have it, return and exchange
the consideration of free price products
the management of discounts and gifts
management of options for cooking (for catering)
management of tables and cutlery (for catering)
sending invoices via e-mail
the administration of VAT exclusive sales


Customers
loyalty program Management
activity monitoring (History)
accounts receivable administration
Products and services
product details
administration of subcategories and categories
search by criteria based on products
automation of label printing
multi-rate management
automatic cropping and visual management
Checkout
petty cash management
deposit and withdrawal management
the follow-up of the actions from the cash register
Statistics and parameters
the daily POS summary (closing cash balance)
log tracking
the setting of access and users
configuration of general parameters, taxes and payment methods
appointment and calendar management
device management
management of table layout and room plans
the personalized setting of invoices and tickets
Hiboutik's premium offer adds several features to its free basic package. These features are:
payment by customer account
the addition distribution (restoration)
the kitchen screen (restoration)
time stamping (Sales Management over time)
the multi shops
transfer between shops
sales status by month and by year
the charts by product, time, category and point of sale
statistics export
API access
the status of assets and loans
stock status
analyzes by customer, brand and supplier
the Accounting valuation
the management of multi-point of sale and stocks
The assets that make Hiboutik special
Hiboutik is a very complete software that distinguishes itself from other POS software by its great versatility, the beauty of its interface, its management of loyalty programs and the default business sectors it offers.
Versatile software: Cash, Stock and Customer Management
In addition to receipts from direct sales, Hiboutik also records any deposits and withdrawals made directly from the fund. All these operations are of course saved and archived according to their date, time, nature, amount and operator (user at the origin of the transaction). A comment can even be left with each recording.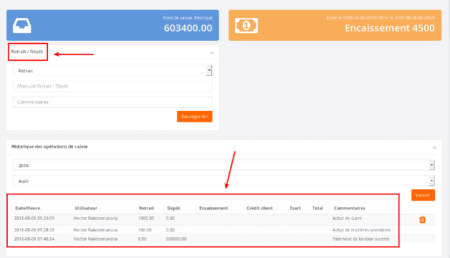 Hiboutik can also track the stock of a product if you wish. In this case, the stock arrivals will be recorded with such details as the date of order, date of payment, supplier and same status of the supplies (order received or not yet).
Hiboutik also offers you the opportunity to distinguish your best customers and preserve your relationship with a loyalty system. It even allows purchases on credit.
Hiboutik and design
Besides being very effective, this cash register software has not forgotten about pleasant user experience by taking care of its design.
Hiboutik presents a brightly coloured interface, organised to facilitate its use. These buttons, blue and orange, are for example, very easy to distinguish.
Obviously, the products displayed in the box interface can be configured with the possibility, for instance, to illustrate them with photos. As for invoices (yes, Hiboutik can send invoices, not just print tickets), they can also be customized (logo, etc.).
Manage loyalty programs with Hiboutik
It is possible to manage loyalty programs with Hiboutik and reward your most loyal customers with products, discounts, or vouchers.
However, not only is the setting of such a program is counter-intuitive to this software, but the access to settings is hidden. For all intents and purposes, they are in "Settings / Users / Access Management".
Business sectors in Hiboutik
By default, the Hiboutik POS software has been designed to meet the needs of a wide selection of business sectors.
By choosing one, you will activate a list of options and settings related to your choice. For example, in the "Restore" activity, you will have a table management feature that is not available elsewhere.
However, if your activity is not on the list of proposals, you can still create yours in "Other Businesses".
The list of sectors of activity is listed below:
restaurant / Hospitality
snack- takeaway
Fashion and accessories
fireplace equipment
salon, spa, beauty
grocery store
specialized store
culture and leisure
florist
tobacco and electronic cigarettes
computer and telecommunications
other businesses
Positive and Negative sides of Hiboutik
After seeing the details of what this software was doing, let's now look at its strengths and weaknesses together.
The strong points
without installation (Saas)
thought for touch screens
feature rich
mono or multiboutiques
compatible with all kinds of commerce (products and services)
adapts to any internet-connectable device
reasonable price for the premium offer with a monthly or annual subscription
possibility of a custom development
Equal customers, whether they are on the free or premium version
lawful software meeting the functional standards imposed by the anti-fraud VAT law in force
The weak spots
even configured in French, words remain in English in the interface
import of paid data
costly custom integration and development price
non intuitive software
lacks the option of making invoices (even if it's a cash register software)
Hiboutik is a very complete cash register software, certainly, but it is also difficult to use and requires a time of adaptation to understand the logic of its editor (unlike Openflex which is really easy to access). So I have often pulled my hair out to understand how to put a product in a category of products, or just how to put an image on a category (even now, I still don't know…).
Nevertheless, once the basics of Hiboutik mastered, the mechanism will be activated; things will work themselves out and all the potential of the software will be revealed then. Indeed, Hiboutik's full functionality makes it a nuclear weapon, super efficient to manage inventory, sales, CRM and billing. Few POS software manages all of this at once.
I have a soft spot for this software, because not only can it do huge work at once, but it's also free and the price for its paid version is very affordable (not even considering the price of integration and custom development). I strongly recommend it to any trader wishing to better manage their front office and back office without juggling between several different software. Moreover, don't forget Hiboutik is also NF525 certified.
See also: How to scan barcodes using smartphone and Openflex