19/06/2019. We have already seen in several articles in the Stileex Post that "vita Malagasy" products have become increasingly popular in recent years. This increase in value has breathed new life into the Big Island. Malagasy art products are obviously contributing to this rise. However, does their current popularity really sell Art Malagasy products? For you, our loyal and relentless journalists have therefore conducted a survey throughout the capital of Madagascar on the opinion of Tananarivians on the products of Art Malagasy. The results will certainly surprise you.
Malagasy Art Products : the Tananarivians are interested but are not buyers
It is indisputable, the Malagasy craftsmen are real geniuses. The proof, the Malagasy Art products are always appreciated by the Tananarivians at 62%. We are talking here about various artistic products, from Malagasy embroidery, to painting, basketry, but also wood carving and many others. But it is still rather gloomy that more than 3 people surveyed out of 10 are not even a little interested in Malagasy art products. This figure of 37% still seems to be too high to hope for a progress in all fields.

To our astonishment, not even half of the Tananarivians who said they were interested in the arts of their country are not buyers. According to the statistics collected from the citizens of the capital of Madagascar, 34% of us really buy Malagasy art products. It's very hard to take, but there are 66% of the inhabitants of Antananarivo who have never bought this kind of product. According to them, the products are too expensive for them (73%), but others also answered that they don't need them (26%).
Raffia, leather and wood on the podium
Continuing our investigation, the 878 citizens of the capital city surveyed entrusted us with the materials they liked most for a Malagasy Art product. The raffia is in the lead, see for yourself: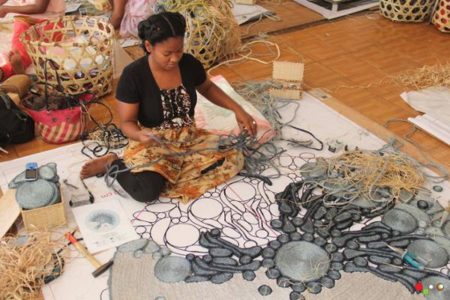 raffia: 26%
leather: 20%
wood: 17%
silk: 12%
precious woods: 12%
iron: 6%
clay: 4%
other: 3%
It is a simple logic that raffia is so successful among the Tananarivians in love with Malagasy art products. Indeed, with this element, one can make unlimited things: bag, hat, carpet, basket, wallet, home decoration, etc….
The Tananarivians buy a little bit of everything
Our friends the surveyed inhabitants seem to be quite sceptical about the types of Malagasy Art they buy most often. It is not really their fault since Malagasy artisans and artists create and make "by hand" breathtaking beauties. Today, the Tananarivians, the Malagasy and even the whole world are dazzled by the purity of the art. According to the results of our survey, decorative items, hats and shoes, as well as clothes and handbags are the most popular today.
Decorative items: 15%
hats: 13%
shoes: 13%
lamba, clothing: 10%
handbag: 10%
jewelry: 8%
tableware: 7%
basket: 5%
miniature: 5%
belt: 5%
wallet: 3%
embroidery : 2%
furniture: 2%
satchel: 1%
pottery: 1%
The purchase of the products of Malagasy Art is done at the "Tsena"
As we have already mentioned above, Tananarivians do not go so often to buy Malagasy Art products. But at least a quarter of them (25%), mostly lambda people, can buy one Malagasy Art product per year. The 56% of the people we met had to save and negotiate to be able to afford such a product. And here again it is less than once a year. For the more affluent families, the latter have the possibility to offer themselves different ranges of products 2 to 4 times a year (13%).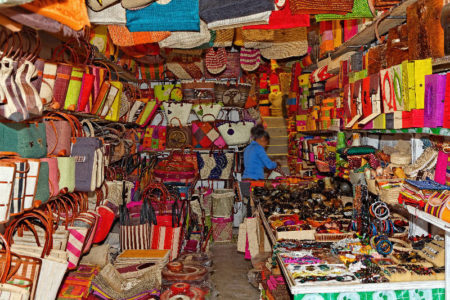 We are in the capital of Madagascar, and it is no secret that half of the Tananarivians (54%) go to the different markets of Antananarivo to find a Malagasy Art compatible with either the style of their house or their personality. Other citizens turn to authorized dealers (21%). As they say, "there at least we have good quality". But 20% even go to the producer to get the best. Online shopping is not very well seen with only 1%, accompanied by purchases in supermarkets (4%).
Treat yourself to a product "made in mada" for pleasure
It is true that the pace of life in Antananarivo is today more trying than ever. But the 58% of the Tanananarivians have found the right solution to their daily stress, it is the purchase of Malagasy Art just for fun. Of course, there are also special occasions (19%) or holidays (16%), while others make impulse orders (7%).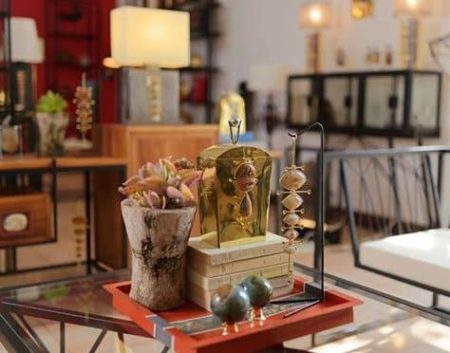 On average, the 50% of the inhabitants of the City of a Thousand spend between 20,000 and 50,000 Ariary on each purchase of Malagasy Art products. The quarter (24%) can go up to 80.000 Ariary. And even with the current cost of living, 15% dare to exceed 80.001 Ariary as you can see on the downloadable computer graphics above.
In conclusion of this survey
After so many emotions during my visit in the four corners of the capital, I finally realize that Malagasy Art has a great place not only traditionally but also socially. If we confide in the results, the Tananarivians are very interested in the products of Malagasy Art. Lack of budget is not really a problem for a true Malagasy patriot. Personally, for the popularity of Malagasy Art products to sell, one must consider more social awareness. And the economy will work very well. What do you think about it?