20/09/2018. It is far away the time of Zoma. In thirty years or so, self-service has managed to establish itself on the Big Island despite the waltz of signs (who remembers SuperSice, Prisunic, Magasin M and Champion?!). The question remains, however, whether this anchoring reflects a change in the consumption habits of the Malagasy, a people accustomed for centuries to going to the bazaar.
For our survey of the week, we looked at the shopping habits of Malagasy people: Have we really adopted the consumerist lifestyle of Westerners? How do Malagasy people shop in 2018? The answer in the following lines.
Traditional markets out of control
Going to the market remains a must for the Malagasy, and stalls and stalls still attract 87% of people when they do their shopping. In addition, local grocery stores are frequented by 20%, followed by supermarkets with Shoprite in the lead (5%), Jumbo Score (4%), Leader Price (2%) and SuperMaki (1%).
Generally speaking, doing one's market is every day for the Malagasy! At least that's what 66% of the people we interviewed answered. Next come those who go once a week (22%), then those who go several times a week (9%). Those who only go to the market once a month are in the minority and represent only 2% of the interviewees.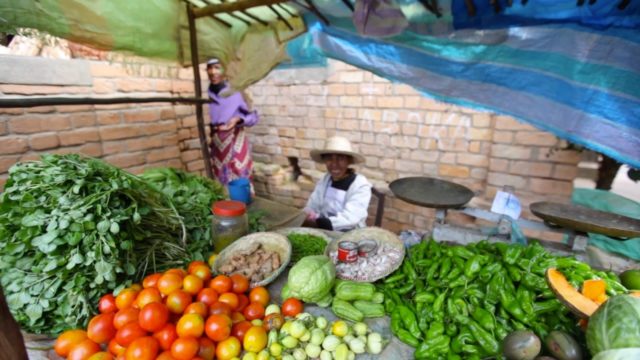 On the other hand, if we look at the behaviour of those who go to the GMS (supermarkets and hypermarkets), we see that those who go shopping once a week are more numerous (40%). Only after, ex-aequo, come those who do it every day and those who go several times a week (25%). At the bottom of the list are those who go only once a month (9%).
The average basket when the Malagasy do their shopping
It was a bit expected: the majority of Malagasy people, 89%, spend less than 50,000 ariary per racing session. Normal, shall we say, given that many of them do their shopping every day.
They are then 7% to spend between 50,001 and 100,000 ariary, 2% between 150,001 and 200,000 ariary and 1% between 100,001 and 150,00 ariary.
This general trend is also noticeable when we look at the habits in supermarkets and hypermarkets: at the checkout, 63% spend less than 50,000 ariary, 22% between 50,001 and 100,000 ariary and 9% between 150,001 and 200,000 ariary.
The price of discord
When asked about their perception of the availability, quality and variety of the products they buy, the majority of respondents were always very satisfied, as shown in the following graphs.
Everything could have been perfect in an idyllic world if they hadn't also been asked how they felt about the price of the items they find when shopping. This is the tragedy: 28% find the prices charged as moderately satisfactory, 26% unsatisfactory, 23% very unsatisfactory and only a little over a fifth, 21%, find the prices very satisfactory.
Curiously, feelings worsen but remain mixed when we look at those who frequent MSGs in particular. Indeed, the proportion of people who are very dissatisfied with prices comes in second place (22%) just after those who find them moderately satisfactory, who are more numerous here (37%). In third place, on the other hand, there are people who find the prices very satisfactory, while those who are dissatisfied with the prices charged by the shops close the gap (18%).
What can we say about this survey on Malagasy people and their races?
The tsena have a special place in the heart of the Malagasy people. Indeed, even if they are unfaithful to the self-service, 9 out of 10 Malagasy people still buy their supplies on the market. Moreover, it appears at the same time that the attendance of the GMS by Malagasy people is also quite low.
All this makes the popular market an unavoidable detour to obtain supplies, especially when we know that only a quarter of the people surveyed produce products themselves that they then consume (vegetables, eggs, etc.).
Finally, with a majority of respondents doing their shopping every day (66%), it is clear that the average basket is not flying high: less than 50,000 ariary (89%), a figure representative of the relative affordability of tsena and neighbourhood grocery stores.
Why are tsena so essential?
The resilience of popular markets is obvious, but what is less understood is why they are so resilient when elsewhere, especially in the West, they tend to disappear.
In fact, beyond its primary role of bringing supply and demand together, a market in Madagascar is a meeting place. You socialize there, you keep up to date with the latest gossip and you take pleasure in showing off the contents of your basket to show off your standard of living. It's also a lively place where you like to haggle bitterly for 2 or 3 thousand ariary on an already good price and where, despite the cost of living in Madagascar that makes everyone grumble, you still like to go, if only for a stroll. Mijery tsena e!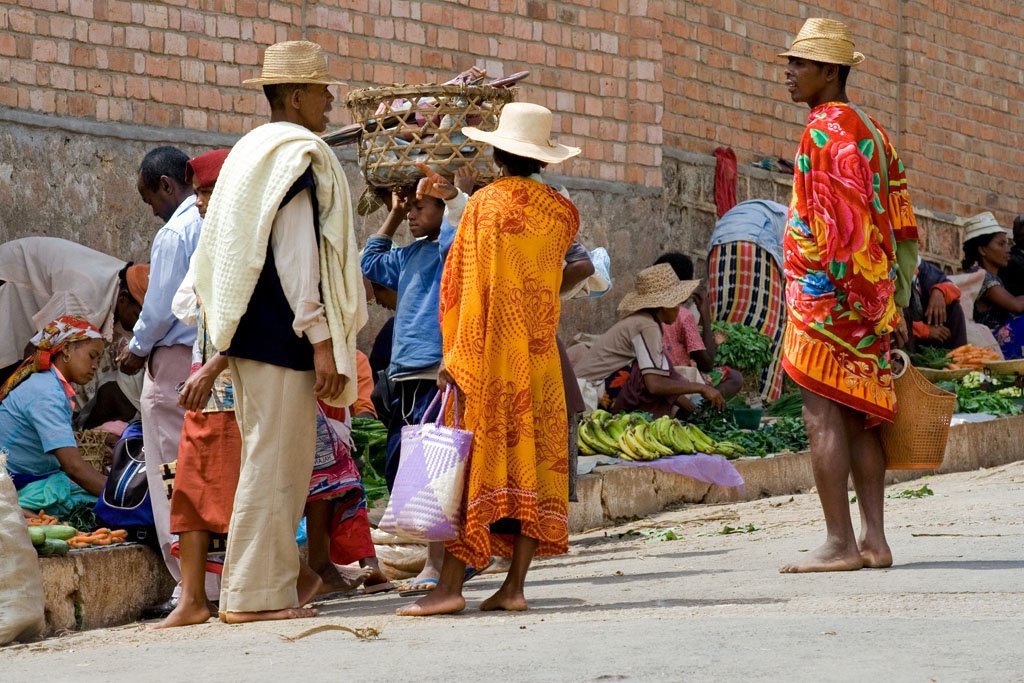 On the other hand, supermarkets and other self-service stores are more sanitized, one might say. More square and less messy, you wander between the shelves, with a tight face, looking for the item you've come for. There's only one thing to look forward to: getting out of there to go about our business. So, yes, we meet a friend or two every now and then, we chat for a couple of minutes, but we quickly realize that the narrow aisles of supermarkets are not made for that: they're all tight and we have to push ourselves every time to let people pass. Ah well, it's immediately less exciting.
Tana's main markets
Originally, there was Zoma. Imagine a huge open-air market in the middle of Analakely, running from where Super Music is now located to the Soarano train station (with a ladle, eh). 1 km of a forest of stalls, displays, tables and benches bristling with parasols that barely let the daylight filter in some places.
Created at the end of the 18th century, this market started in Andohalo, before moving to Antaninarenina in 1896, at the beginning of the French colonization, to finally come down to Analakely. After surviving 200 years, Zoma was finally dismantled in 1997. Yep, I'm talking about a time that people under 20 years old can't know :P.
When it was atomized, the Zoma was scattered all over Tana. At Low Speed already, nearby, but also at Camp Pochard which is not far away. Several markets were then consolidated to fill the gap:
Ambohimanarina market which takes place every Monday
Besarety market which takes place every Tuesday
the Andravoahangy market which takes place every Wednesday
Mahamasina market which takes place every Thursday
the 67Ha (Coum) market which takes place every Friday
and the Isotry market which takes place every Saturday
These are now the capital's main markets.
Appendix: the modus operandi of the survey on Malagasy people and their races
This survey of Malagasy people and their shopping involved 1,133 people we interviewed in the streets. The main characteristics of this population are as follows:
Kind:

39.10% are women
60.90% are men

Age groups:

17.21% are between 18 and 25 years old
29.92% are between 26 and 35 years old
28.68% are between 36 and 45 years old
14.47% are between 46 and 55 years old
5.74% are between 56 and 65 years old
3.27% are over 65

Socio-professional categories:

23.83% belong to the Employees category
3.71% belong to the Farmer farmers category
28.33% belong to the category Craftsmen and traders
4.32% belong to the Students category
4.06% belong to the Retired category
10.86% belong to the liberal professions category
4.85% belong to the Unemployed category
8.12% belong to the category Managers, business leaders and higher intellectual professions
11.30% belong to the category Other people without professional activity