Scanning and controlling barcodes with a mobile application can significantly improve the management and security of your business. In this article we will discover the enormous potential of a management software called Openflex. Paired with its Android application, it enables you to scan a barcode with your smartphone. The uses are numerous! Inventory control, price control, label control, Access Management, Hardware Resource Management, membership cards, POS software, etc.
Barcode Scanner for 1D Barcode
Here we are talking about classical barcodes that can be seen on products packaging (1D barcode), not QR codes (2D barcode) whose use is still marginal.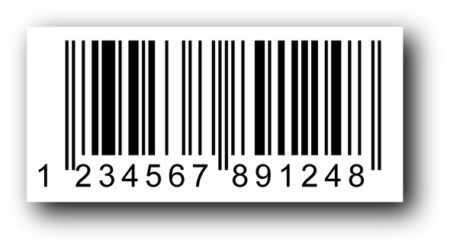 For the record, the barcode was invented in 1952 for the registration and identification of products. Barcodes began to be widely used in 1974 to automate and secure supermarket activities. The first product featuring a barcode on its packaging was a food product: a pack of chewing gum sold in the US.
Since then, barcodes have been globally used in many different areas: access control, loyalty cards, serial numbers, postal items, transport, health, administration, etc.
A barcode scanner is what makes it possible to read a barcode. It is also called a handheld reader or a laser barcode reader.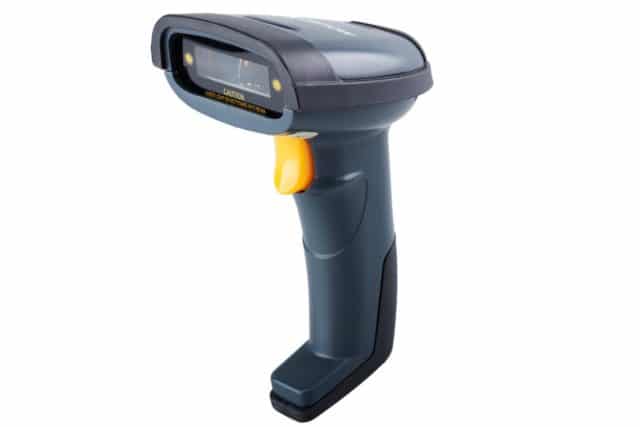 For the rest of this article, we will study the advantages of scanning a barcode with its smartphone coupled with the use of the Openflex Business Management software.
Stock Control
Closing the shop for one or more days to carry out a stock inventory should be a story of the past. Don't you think so?
What if I tell you that you can simply conduct regular inventory checks with your mobile! It's now possible with the Openflex app for Android. This free application works in conjunction with the Business Management software in Openflex Cloud, which centralizes all information (ERP / CRM). This might be very useful if you also manage multiple stores…
After launching the application, click on the barcode icon at the top right of the interface to activate your camera, which is used as a barcode scanner: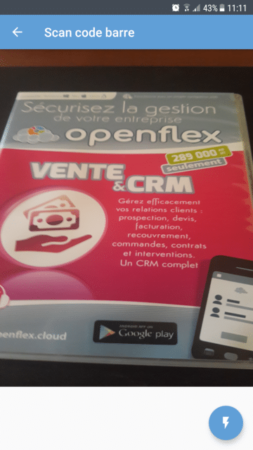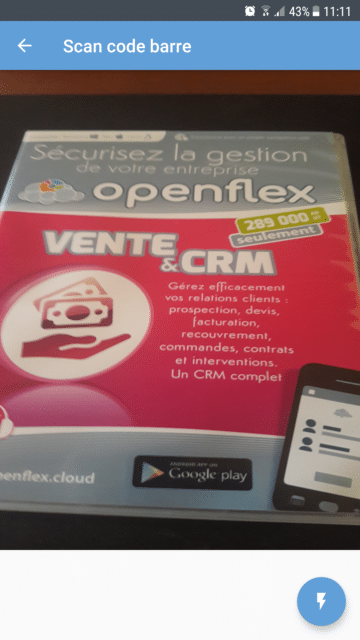 All you have to do is read the barcode with your smartphone and the Android mobile app will automatically decrypt it! If it's dark in your warehouse, you can even activate the flash :)
Several information about the scanned product will appear on your mobile, including the hypothetical quantity and the actual quantity in stock. These quantities are adjustable in a few clicks.
Stock inventory can be done continuously without the mobilization of additional staff, investing in dedicated equipment and interrupting your business!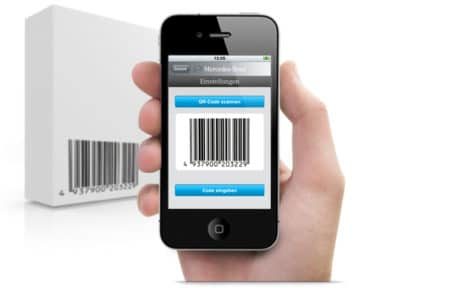 Of course, all your stock corrections are instantly recorded in the central database of your Openflex, making them visible to collaborators who have access to them, wherever they are.
Product Identification
It may happen that you no longer remember the details such as prices or references of products. With the Openflex mobile application, you just have to read the barcode with your smartphone and you will get all the important information of the product!
You will notice that even the product image that has been registered in the Openflex information system is displayed. It's not just for aesthetic purposes…
Several of my clients told me that they were victims of "tag fraud". This embezzlement is generally committed by the store salesmen themselves: they exchange the label of a product with that of a more expensive product, if the customer pays in cash, they have only to keep the difference for them…
Thus, by passing regularly in the stores, the supervisors can test the barcodes of the products on the shelves and check if they match to their respective article.
Managing Employee Attendance and Access
Do you think that getting employee Attendance and Access Management equipment is expensive and complicated? If so, you're mistaken…in fact, you can use a simple smartphone!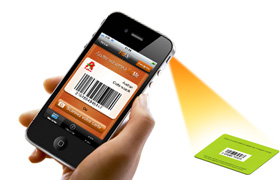 For example, if you are hosting an event, such as a trade show, you can equip security guards with smartphone that has the Openflex Android app. Therefore, they will be able to carry out checks of the badges of the participants by decrypting the barcodes.
Another example: you oversee a gym. Your members pay subscriptions to enjoy your services and infrastructure. So you just need to place a smartphone at the entrance of your complex and scan the membership cards of your customers to see their picture and if they are up to date with their contribution, simply :)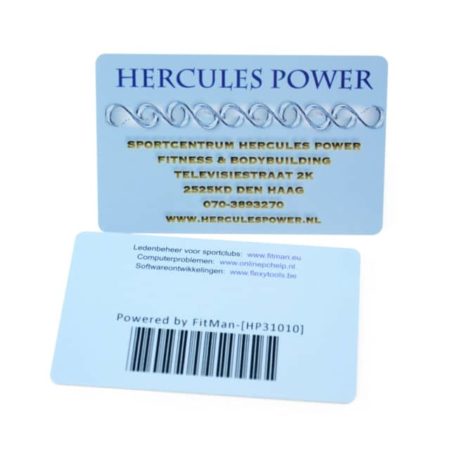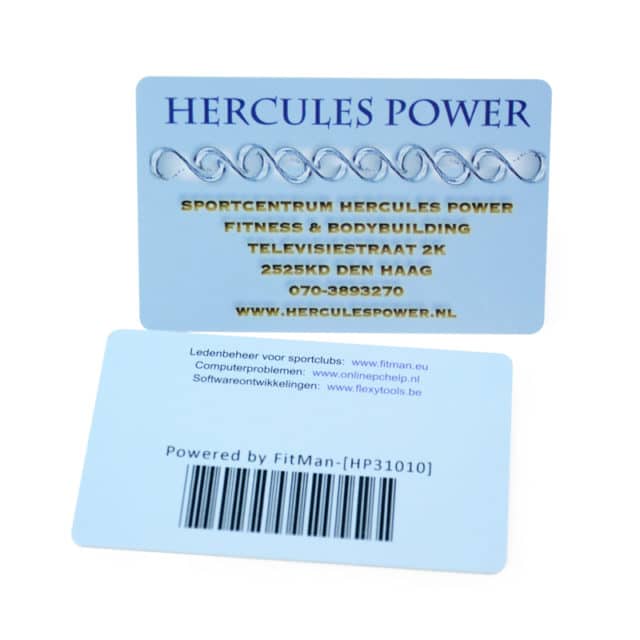 To finish this chapter, I will talk about a service that our customers frequently ask us. It concerns automatically recording the arrival and departure times of their employees. Usually we think immediately of biometric clocking-in devices. Such an investment (in terms of cost, time and technology) is not systematically justified. Most of the time, for SME and VSEs, barcode card clocking in is easier to implement and less expensive. Thus, scanning a barcode with your smartphone is the ideal clocking in solution.
Hardware Resources Management
How do you keep an inventory of your materials such as furniture, computer equipment, telephones, SIM cards, uniforms, lamps, etc? From a purely Accounting viewpoint, you can find a list of all your assets in the financial statements and depreciation schedules. But what about functionality? How do you remember if a material resource has been allocated to a particular employee?
This is where you will take full advantage of the combination of Openflex's "Hardware Resources" module and its Android mobile application with barcode scanning.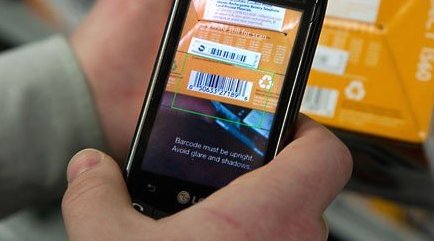 Openflex includes a feature to produce barcodes. You only need to print and place them on your materials. Moreover, most computer and telephone hardware generally have serial numbers and other identification codes already present in barcodes. You only need to use them as they are!
To identify a hardware resource, just scan a barcode with your smartphone…
Many other applications of this technology are still possible (eg management of vouchers, gift cards, Project Management, POS software, etc.), making the Openflex mobile application one of the best Android barcode readers! If you want to see smartphones it's here.