11/10/2018. I see some pretty venerable ones back there, "What do you mean, no?! » :D. This week, Stileex looked into the nighttime habits of the Tananarivians and the results are surprising. Really, it is. Is Tana a city that never sleeps? Let's look at the 1,058 people we met and interviewed on the street.
1 Tananarivian out of 5
I don't know how to tell you the news, but it's not jojo: only 21% of the people we interviewed go out in the evening to have fun, that's 1 Tananarivian out of 5!
Their favorite destination? Karaoke, which attracts the favours of 41% of partygoers looking for a good time. Then follows the "revy amoron-dàlana", you know, the practice of skimming sidewalk gargoyles and small masikita stalls by car, scooter or even on foot, beer and other alcohols in hand (if anyone has the equivalent in French, I'm a xD taker). This practice thus comes in second place with 29% of the interviewees who do it.
In third place are the nightclubs where 19% of Tananarivians who go out at night like to have a wedding, then in fourth place are the restaurants, a much wiser way to go out and which this time seduces 15% of them.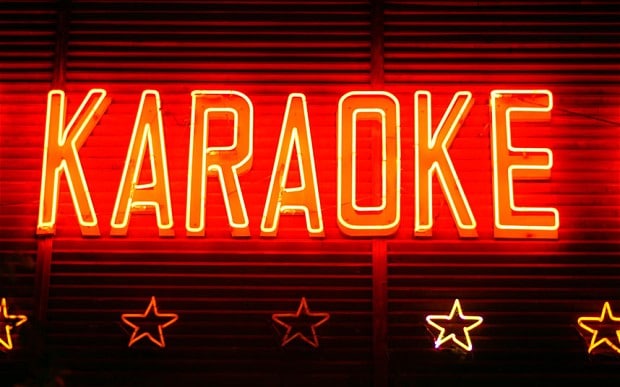 Finally, bars with ambiance are preferred by 14% of those surveyed, while only 8% of them go to parties with friends or family, and 4% go to casinos and gambling halls.
Lovely Friday
Asked about their favourite day for night strolls, it's no surprise that the large number voted for Friday night: 48% of them are zoma magnifika fans! It's true that after a whole week of work… :D
After them come those who prefer to do this on Saturday evening, representing 37% of those surveyed, then those who go out on Sunday evening, 12% of night owls.
If we look at night-time habits, we also see that the places where people go out vary according to the day. Consider this:
on Friday night:

Karaoke (46%)
in nightclubs (27%)
in bars with ambiance (20%)
revy amoron-dàlana (17%)
in restaurants (16%)

on Saturday night:

revy amoron-dàlana (39%)
Karaoke (38%)
in a nightclub (15%)
in restaurants (14%)
in bars with ambiance (8%)

on Sunday night:

revy amroron-dàlana (52%)
karaoke (30%)
in restaurants (19%)
in ambient bars (7%)
in private parties (7%)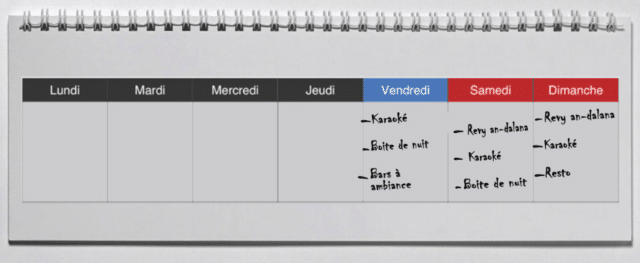 The most important selection criterion to ask oneself
As you can imagine, we also questioned the Tananarivians on their main criterion in the choice of their place of entertainment. Thus, in first place comes the atmosphere of the place, roughly, the atmosphere that reigns there (67%). In second place comes the music, which attracts 15% of the interviewees, and in third place are the prices, which, strangely enough, only concern 5% of them.
Finally, 4% choose a location according to the type of customers they meet there, 3% decide on the basis of security (neighbourhood, etc.), 2% for whom proximity is important, and finally 2% also for whom the existence of a car park is simply indispensable.
Frequency and output budget
The Tananarivians have not gone out too much at night and this can be seen in the frequency with which the night owls go out: once a month, this is the rhythm that the majority of them, 31%, have.
Not too far away, 6 points away, come those who go out to have fun at night once a week (25%), followed by those who go less than once a month (16%)!
We note after those who go out twice a week (8%), twice a month (4%), three times a month (4%) and three times a week (4%).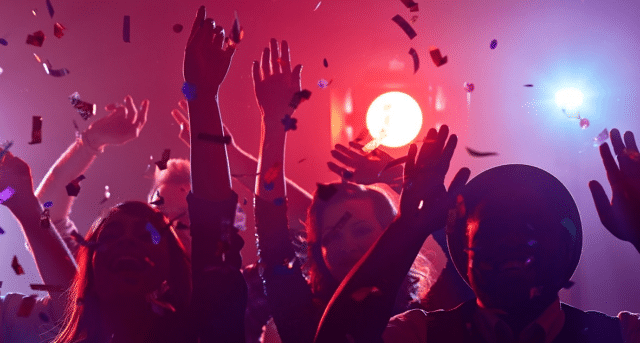 As for what they pay at the cash register, we have 68% of respondents spending between 1 and 50,000 ariary per outing on average and 17% spending between 50,001 and 100,000 ariary. Next come those who pay nothing (8%) and those who spend between 100,001 and 150,000 ariary in one night (4%).
Note that no one in our panel has yet spent more than 150,000 ariary on a night out.
What about the ones who don't like to go out at night?
You'll laugh. So we have 79% of the respondents who don't go out at night to have fun and when we asked them if they were curious to try it. They were overwhelmingly, 91%, to say… no!
A categorical no, since once questioned about the reasons for this refusal, 55% of our reticent people say that the middle of the night does not interest them at all. Second reason: 13% say they are simply married!
A further 13 percent say they do not want to because of insecurity, and 11 percent cannot for religious reasons. Finally, it should be noted that only 1% say they don't want because of a lack of transportation.
What we can conclude from this survey on the middle of the night in Tana
Surprisingly, the world of nightlife attracts only 21% of the interviewees, a proportion that includes more men (71%) than women (29%).
First observation: clubbing is not the only thing you can do at night, it's more like karaoke! Scripted singing is thus the first of Tananarivians' favourite night-time activities in the capital, an entertainment that attracts 41% of the interviewees. Then comes the famous "revy amoron-dàlana", this party activity that makes the happiness of barbecues, snack bars and other alcohol vendors in the street (29%). Only there, in third place, come the nightclubs where 19% of the partygoers go to party. All in all, this triptych karaoke-revy an-dàlana- nightclub seems to be the triumvirate of a typical evening in Antananarivo.
It is also interesting to note that night outings are spread out over Fridays, Saturdays and Sundays. No one goes out on Tuesday, and even less on Monday when everything is closed, while Wednesday and Thursday only attract a very small part of the night owls. Note also that only half of the bamboo lovers go out on Friday (48%) and that Saturday is a day almost as ostentatious for the middle of the night.
We also observe that if Friday evening is more festive with a strong tendency to go clubbing, Saturday and Sunday are conducive to revy an-dàlana with a small peculiarity for the day of the Lord: it is there that we go to the restaurant the most!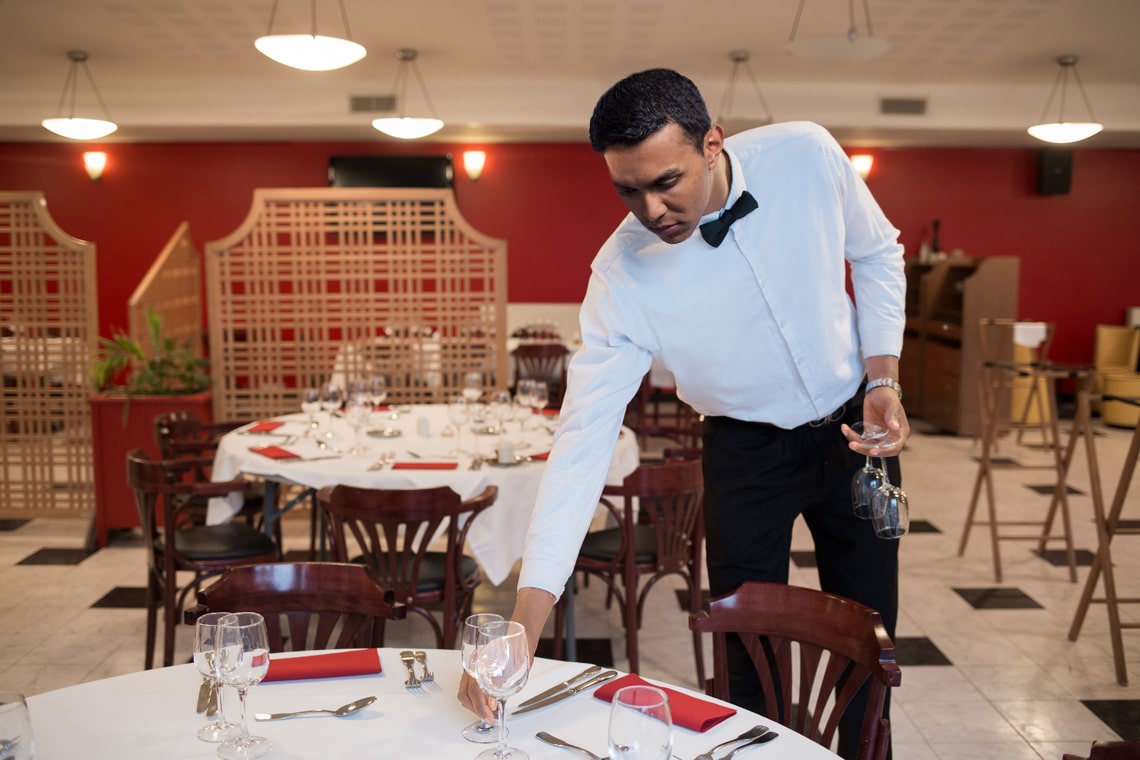 Finally, among the 79% who do not go out at night, 91% categorically do not want to hear about going out at night. It's scary, I know, but when you know that half of them are not immediately interested in this world, you understand better. As for the other half, it is mostly composed of (very) married people, (very) religious people and others who are aware that, well, going out at night can be (very) dangerous.
What's it like going out to Tana at night?
Let's be honest, there are two realities at Tana nights (and in Madagascar in general): that of foreigners and that of locals.
Overnight investors?
Foreigners are generally received like kings wherever they go, but not for the right reasons. Wallets on legs, that's how they are seen not only by the crowds of peripatetic women who haunt most trendy clubs, but also by the clubs themselves who see them as the equivalent of families in restaurants (to make a long story short, a big boost to the day's turnover).
A foreigner who wants to enjoy the night in the capital must also pay attention to security, both inside and outside the clubs. No sooner does his buttocks rest on a bar stool than the night beauties will approach with a smile on their faces. My advice would be to always be accompanied by at least one Malagasy, just to temper things a little. Afterwards, that doesn't mean you can't have fun, just that you have to know where you're stepping.
Note that if you want an executive with fewer, say, opportunists, you're going to have to go where others don't usually go. I'm thinking of the Jet Club (Antsakaviro) for example, where the entrance fee remains a deterrent for creatures of the night, and the brand new and select La Casa (Analakely, Urbania mall). Enjoy it, not sure it will last. Or there are the cabarets where it's really quiet, but it's a whole different atmosphere.
Andao hivoaka ee !
Without saying that for the locals it's better, I'd say they're quieter when they go out. Of course, the question of security is always a concern and going out in a group is advisable, but, overall, you're better off at night.
After setting the dancefloor on fire, it is even possible to go to Anosy for a hot [email protected] sy kitoza around 3 or 4 in the morning. A very practical night service that can be found in the areas most frequented by the night owls of Antananarivo: Isoraka, Analakely, Antaninarenina, etc.. Be careful, each gargotier has these regulars and their working hours (if, if). And cleanliness? Honestly, with 6 hours of clubbing in the legs, we don't think about it anymore!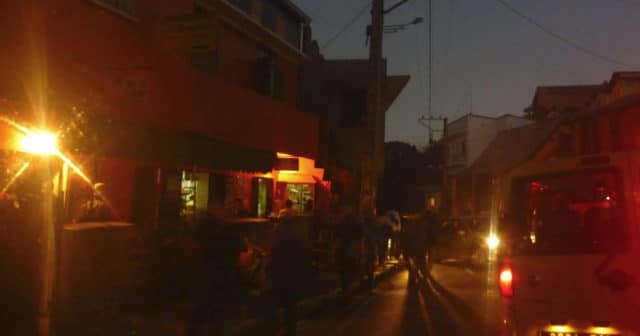 Safety at night
As everywhere, night is more dangerous than day in Tana, especially if you hang out in shady corners full of dark alleys conducive to escape (not yours, eh, the attacker's). But I would also add that Tana, at night, is not as dangerous as, come on, Los Angeles at night? :D.
At night too, the gendarmes are on duty at strategic crossroads and roundabouts, from 7 to 8 p.m. depending on the district. Foot patrols also criss-cross the red-light districts and those frequented by revellers. Beware of anyone who has forgotten his identity papers!
Afterwards, it's a reality and it must be admitted, these brave men are so disillusioned by their hard work that all they ask for is a little something to help them get by. If you know what I mean. That's especially true if you're a foreign tourist. Alas, that's what it's like at night in Tana, too.
Bonus: Remedies to avoid hangovers
Yees, avoiding a hangover is possible and yes, to each his own recipe. But what I propose here are two tips on how to avoid it before drinking!
First tip: cooking oil. Yep, this oil in the kitchen can also be used for something other than doughnuts. Taking 2 tablespoons of it before drinking should protect against headaches the next day.
Tip number two: Madetoxyl. I will be very careful and tell you that this is for information purposes only. Madetoxyl is a drug, a syrup produced by the IMRA (Malagasy Institute of Applied Research), and, as with all drugs, a medical opinion must be sought before taking it (not crazy wasp).
This syrup is an anti-allergic and anti-toxic which has the particularity to act also on ethyl poisoning ;). It was thus noticed that taking a capful of this mixture before a binge drinking totally freed the subject from the unfortunate and migraineous consequences of excessive consumption of alcoholic products. But I say that, I say nothing eh.
Warning: no matter what we do, we must always have the wisdom to consume alcohol with our good buddy in moderation. (Ding dong It was Blue Cross minute. Ding Dong)