04/07/2019. The majority of Madagascar's regions have been suffering for some time from this cold winter. And today, with household consumption in Madagascar increasing steadily, the general public is turning to second-hand goods, even some public figures find their joy there. If before second-hand clothes were perceived as second choice products, today the concept has totally changed. So Stileex Post was keen to conduct a survey in the capital of the Big Island to find out how they view the current second-hand clothing store.
The Tananarivians are very attached to the thrift store
According to our figures, Malagasy men and women still run to find their joy in the balls of thrift shop. Of the 902 Tananarivians surveyed on the subject of second-hand goods in Madagascar, almost all of them, 86%, confessed to us that they preferred to buy second-hand clothes.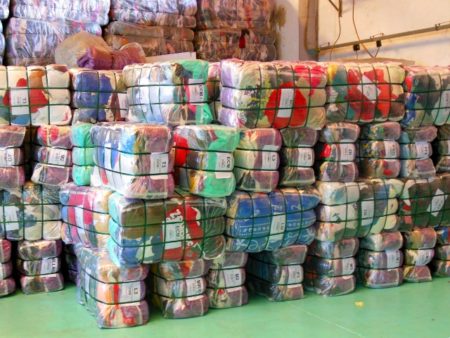 A minority, 14%, however, is not really interested in this practice. According to the wealthy (43%), buying second-hand clothes is not part of their habits, as they can afford to buy products without resorting to such a process. For other people (31%), it remains a question of hygiene above all.
The shame of the 19% of the Tananarivians surveyed who bend over at the market or enter the shops prevents them from enjoying the second-hand clothes shop in Madagascar. For the 4%, their reasons are different from the first three. 3% of citizens preferred not to answer the question.
Buying clothes for the Malagasy has become a kind of tradition
We have seen that the inhabitants of the City of Thousand are addicted to rags. In fact, the majority of Tananarivians (62%) make the most of it with an average monthly purchase of 2 to 8 times. Only 4% dare to go up and buy second-hand clothes up to 9 to 15 times a month.
Some buyers are discreet (22%), they only go through the second-hand shops once a month. Others are even more discreet, as 11% of the Tananarivians surveyed buy second-hand clothes less than once a month. Business is very good for second-hand vendors, especially just before the two dominant seasons in Madagascar. The "ririnina" or dry season with freezing cold, as well as the "fahavaratra" also called the rainy season.
The thrift store still takes a very large place in Madagascar
The answer is obvious, a Tananarivian who follows the traditions will necessarily go to the market to buy rags. But today, the influence of development and new technologies are giving a new face to the second-hand goods trade in Madagascar.
The second-hand markets still dominate in Antananarivo, where Tananarivians buy mainly second-hand clothes (96%). But after some time, shops have sprung up here and there to sell essentially only this kind of product.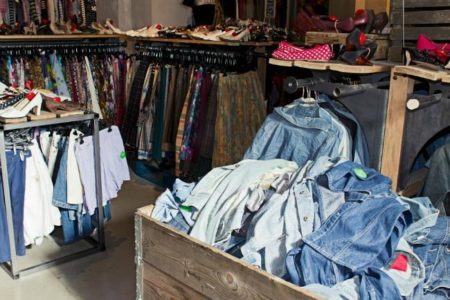 This secure and appropriate framework is beginning to be appreciated by the citizens of Tana, at least by the 3%. Online sales on social networks, such as Facebook, do not interest too much buyers of second-hand goods in Madagascar, with less than 1%.
Tananarivians like spontaneous shopping in thrift stores
Today, find out which Antananarivo thrift store market the Tananarivians go to most often. Click on the downloadable computer graphics above:
Mahamasina: 35%
Ambodin'Isotry: 26%
Andravoahangy: 20%
Analakely: 17%
Anosibe: 1%
We can also see that 78% of the citizens of the capital of Madagascar make spontaneous purchases in rags. On the other hand, 18% prefer to follow their schedule. On this question, 4% of those surveyed remained silent.

According to the Tananarivians surveyed, 83% of them only buy clothes hanging on hangers. The 15% also like products spread out on a table or even on the floor. But 2% didn't want to express an opinion.
Citizens are mainly looking for unique pieces and quality clothing
Apparently, the people of Tana care about the thrift store. According to them, there is first the quality of the clothes (26%) and also the unique pieces (26%). Without forgetting the branded clothes (18%), because in Madagascar, one is never late. The very affordable price (16%) also attracts the general public. But 9% of citizens only buy rags because it's fun.
As we are in the dry and winter period, citizens first want low clothes i.e. pants, skirts or shorts (28%) and tops (27%). Shoes (15%), underwear (10%) and bags (10%) come in second place, just ahead of socks and hats, with 5% each. The second hand shop in Madagascar even overshadows the beautiful Malagasy confections.
For the Tananarivians, the thrift store does not need a monthly budget
Nowadays, more than 8 out of 10 people, or 85% of Tananarivians, do not really care about the budget to spend on second-hand goods in Madagascar. As we have seen above, they acquire second-hand clothes unexpectedly. So the Malagasy don't need to plan their errands in order to bend over to buy second-hand clothes.
Admittedly, only 13% of the people surveyed have a budget for second-hand clothes. But according to the figures, it seems that the citizens of the City of Thousand don't really look at the expenses. See for yourself:
5,000 Ariary to 10,000 Ariary: 10%
10,001 Ariary to 20,000 Ariary: 14%
20,001 Ariary to 30,000 Ariary: 13%
30,001 Ariary to 40,000 Ariary: 20%
40,001 Ariary to 50,000 Ariary: 16%
50,001 Ariary to 80,000 Ariary: 21%
80,001 Ariary to 100,000 Ariary: 6%
It is noticeable here that these few committed Tananarivians largely prefer second-hand goods to clothes on sale in shops and other stores throughout the capital. Indeed, even with the current cost of living, 25% of the latter admitted that the most expensive second-hand clothes they bought cost between 30,000 and 40,000 Ariary. The same is true (25%) for those who pay 10,001 to 20,000 Ariary. And no further, 22% stay between the two, i.e. between 20,001 and 30,000 Ariary.
Conclusion of this survey on thrift store in Madagascar
Since my early childhood, I've always lived in this world where the thrift store is always dominant. It must be admitted, second-hand clothes are constantly present in Antananarivo. All Tanananarivians of any class or social category confess to appreciate the quality of today's second-hand clothes. A good part of the citizens of the capital of Madagascar spend a lot of money just on second-hand clothes, because they hope to find their happiness there. Personally, I find that shopping sessions for second-hand clothes between girls, families or even couples in the different markets can also become an anti-stress moment. In short, I think that second-hand clothes shopping in Madagascar has become a culture in its own right for all Malagasy people.