Videoconferencing has become an essential tool in corporate and personal communication. Here's all you need to know to take full advantage of videoconferencing.
Videoconferencing definition
Videoconferencing or visioconferencing is a means of visual and auditory communication at a distance. It connects several people in a different place, usually in a working meeting, training or conference.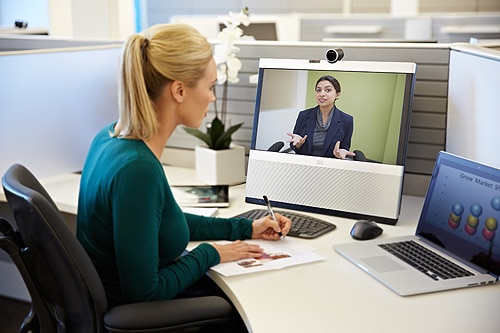 This remote communication system makes it possible to reduce the costs associated with people's travel (purchase of train or plane tickets, for example), to avoid wasting time related to repetitive e-mail exchanges or telephone calls and to encourage collective work between employees.
This increases the productivity of companies and increases the number of companies using this system.
A brief history of videoconferencing
Videoconferencing appeared in the 1950s thanks to image telephony. Black and white images are then of poor quality and fixed. It was not until the emergence of the Internet in the 1990s and the development of CODECs (a device for converting an audio or video file into another format) that it became popular in companies.
In 1995, the first public videoconference was held between North America and Africa. The advent of this means of communication will take place in the 2000s thanks to software such as Skype or ichat. The first high-definition videoconferencing device was launched in May 2005 and has continued to evolve since then.
Videoconferencing equipment
The use of videoconferencing requires a computer or monitor with a webcam, microphone, audio system and broadband connection. Portable video conferencing devices are available on the market and do not need to be connected to a computer to operate.
Technological developments now make it possible to hold a visioconference on your smartphone or tablet. Videoconferences are thus gradually moving out of the traditional conference rooms, which are very expensive to equip.
Types of videoconferencing
Three main types of videoconferencing are used by companies :
the point-to-point mode which connects two interlocutors or groups of people;
the broadcast mode, which connects a main contact person such as a company manager with other groups of people who are not in the same premises. These groups of people can address the main contact person but cannot talk to each other;
the multipoint mode which connects different groups of people who can discuss with each other
20 videoconferencing software packages
AnyMeeting : Free enterprise solution for up to 4 people.
Appear.in : easy to use, operates without software installation and can accommodate up to 8 people.
EmeetMe : Very simple solution allowing visual exchange, file sharing and screensharing.
FaceBlow : Free and general public visioconferencing tool, available as a smartphone application.
Facebook : this gigantic social network also has the "video call" option between two people.
Google Hangouts : videoconferencing with up to 10 people and accessible on smartphones.
Gruveo : French-speaking and does not require any installation, limited to 2 users.
Join.me : multi-platform application allowing screen sharing and videoconferencing for 10 people.
Kik : Smartphone application for young people, allowing chat and videoconferencing for 2 people.
LiveMinutes : Video conferencing, sharing and brainstorming tool via an online whiteboard.
Meetings.io : Free online collaborative tool for up to 5 participants.
Mikogo : Free, no download required and suitable for business applications.
OOvOO.com : free for up to 12 participants and offers YouTube video sharing for simultaneous viewing.
Spreecast : Free video chat and streaming for 4 participants, with the possibility of recording the conference.
Skype : allows you to call landline numbers in addition to videoconferencing.
Tox : Video conferencing software that encrypts conversations and protects user data.
Uber Conférence : allows screen and document sharing for 10 participants.
Viber : VoIP application linked to a phone number allowing free video calls between 2 people.
Webex : widespread in the business world with its screen, audio and video sharing system.
Zoho Meeting : Cross-platform videoconferencing application for the business world
See also -> How to create a professional email address for free.